Little Free Libraries are here!
With generous support from LARAC's community arts and culture funding and the hard work of Scouts BSA Troop 6027, Greenwich is now home to three Little Free Libraries. Take a book and share a book! Find the new LFLs outside of St. Joseph's Parish Hall on Hill Street, on the corner of Sloan Drive and Prospect Street, and across from the Middle Falls Firehouse.
Upcoming Library-Sponsored Programs & Events
Visit our Events Page for more details.
Fresh Food and Food Waste: your library's got you covered
Greenwich Free Library is now a proud partner in the Farm 2 Library program, providing fresh fruits and veggies to all patrons, thanks to Southern Adirondack Library System, Comfort Food Community, and Capital Roots Squash Hunger. Come by to see what's in season and stock up your pantry. You can also divert food waste away from the landfill by bringing in food scraps. In coordination with Adirondack Worm Farm, we are a drop-off site for your kitchen waste. Call, email, or drop by the library to register your household.
Story Hour in the Children's Room
Join library staff for stories and activities in the Children's Room every Thursday at 3:00 PM. No registration required. Special Guest Assembly Woman Carrie Woerner on Thursday 8/11
Building Blocks Early Literacy Programs
Move Like a Monarch with guest Lili Loveday, Tuesday Aug 9 at 10:30 AM
Lunchtime Story Time, Tuesdays starting July 12th
Playground Story Time, Thursdays starting July 14th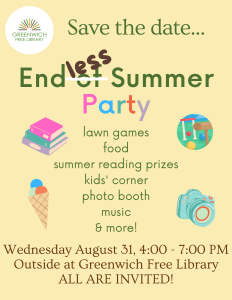 Save the Date for our Endless Summer Party, August 31, 4:00 - 7:00 PM
Health & Safety Protocols
In accordance with state, local, and national guidelines, mask wearing is no longer required at the library. But we continue to encourage it for patrons who are unvaccinated, not feeling well, or when social distancing is impossible.
Please note that organizers of specific events may continue to require masks for participants. And, the CDC recommends that people with symptoms, a positive test, or exposure to someone with COVID-19 should wear a mask. 
***
Curbside service is available (518) 692-7157
Monthly Board Meetings
Board of Trustees Meetings are held on the third Wednesday of the Month at 7pm and are open to the public.
Our next meeting is Wednesday August 17.