Welcome to Get Outside Bingo!
Explore, Learn, and Have Fun!
How to Play: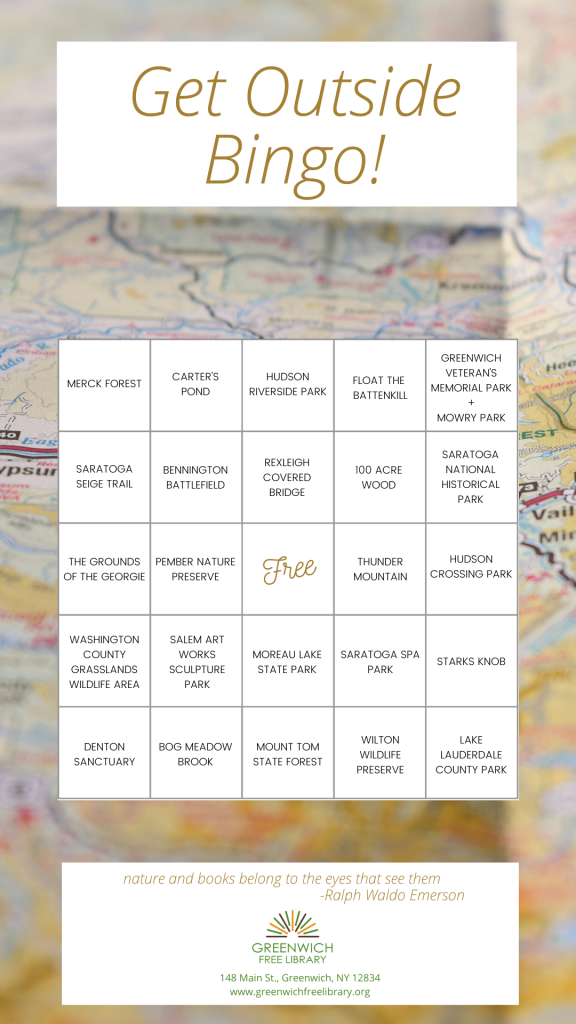 Visit locations on the Bingo Card between June 12th – September 30th, 2020


Once on location take a selfie of yourself at the trail head or park sign


Send your photos to us by email with the subject line 'Get Outside Bingo'


Complete a BINGO by visiting all locations in a single line (up, down, or diagonal) and win a prize!*


*Prizes for this program have been kindly donated by
Argyle Brewing Company (21 and older), Wicked Wicks and More, and the DDC Roosting Box. After your Bingo has been verified we will contact you with how to collect your prize.
Rules:
One Bingo/prize per person


When submitting photos, include a park sign in your photo with your name(s) and location. Families can submit one photo if all participants are visible in the photograph. Additional photos of your trip are welcome as well!


Abide by all social distancing protocols and ALL of the rules and regulations of each location


The "Float the Battenkill" square can mean in a tube, boat, or on your back- be creative!


Respect Hiking Etiquette


A printable Bingo Card can be found here


Bring water and drink it


Know your limitations


Have Fun!
Locations on our Bingo Card:
100 Acre Wood– Malta, NY
The Battenkill River– various locations
Bennington Battlefield– Walloomsac, NY
Bog Meadow Brook– Saratoga Springs, NY
Carter's Pond Wildlife Management Area– Greenwich, NY
Denton Sanctuary– Greenwich, NY
The Grounds of the Georgie– Salem, NY
Greenwich Veteran's Memorial Park – Greenwich, NY
Hudson Crossing Park– Schuylerville, NY
Hudson Riverside Park- 5149 County Route 113, Greenwich, NY
Lake Lauderdale County Park– Cambridge, NY
Merck Forest– Rupert, Vermont
Moreau Lake State Park– Gansevoort, NY
Mount Tom State Forest– White Creek, NY
Mowry Park– Greenwich, NY
Pember Nature Preserve– Granville, NY
Rexleigh Covered Bridge– Salem, NY
Salem Art Works Sculpture Park– Salem, NY
Saratoga National Historic Park– Stillwater, NY
Saratoga Seige Trail- Victory, NY
Saratoga Spa Park– Saratoga, Springs
Stark's Knob– Northumberland, NY
Thunder Mountain– Greenwich, NY
Washington County Grasslands Wildlife Area– Fort Edward, NY
Wilton Wildlife Preserve– Ganesvoort, NY
"One Day's Exposure To Mountains Is Better Than A Cartload Of Books."

John Muir
John of the Mountains: The Unpublished Journals of John Muir, (1938)